First opened in 1816 as a tramroad for conveying coal from Scott's Pit, near Birchgrove, to wharves on the River Tawe nearly four miles (6 km) to the south, the Swansea Vale route grew to become a feeder railway for several mines and metal-working industries in the valley, and by 1874 it was carrying passengers between Swansea St Thomas station, Llansamlet, Glais, Pontardawe, Ystradgynlais (on the Swansea Vale and Neath and Brecon Junction Railway), Ystalyfera, and Brynamman.
The railway was leased in 1874 by the Midland Railway and purchased outright by that company two years later in order to give the Midland access to Swansea docks bypassing the routes of rival railway companies. The importance of Swansea port and Swansea Valley industries declined between the 1930s and 1960s, so too did traffic on the line. Direct passenger services to Brecon via the SVR; ceased in 1931 and to Brynamman in 1950, with the last freight services over the southern part of the line from Swansea to Pontardawe finally being withdrawn in 1964 - so that by 1970 all that remained was rusting rails and earthworks.
An abortive preservation line was established but finally closed in 2008 due to lack of support from the City of Swansea who wanted the land for redevelopment
The attached map is courtesy of Ewan Crawford www.railbrit.co.uk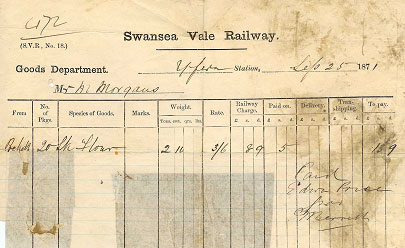 Illustrated above is a goods department way bill from the Swansea Vale Railway Dated 1871 (item number 593 in the list).